MALCOLM JOHN FOX
1946-1997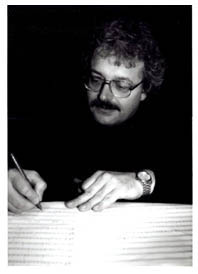 Malcolm Fox was born in Windsor, U.K. in 1946. He studied at the Royal College of Music and the University of London, graduating with ARCM Diplomas in piano performance and teaching, and degrees of B.Mus.Hons (Lond) and M.Mus (RCM).
He studied composition with a wide range of leading composers, including Tristram Cary, Gordon Jacob, Humphrey Searle and Alexander Goehr. From 1972 to 1974 he was Director of Music at The Cockpit Theatre in London, an experimental arts in education centre, where he ran a contemporary performance group which gave public concerts and workshops for schools. In 1974 he was appointed to the University of Adelaide in Australia where he worked as a Senior Lecturer in Music.
His extensive list of commissioned compositions includes solo, chamber, choral and orchestral works, as well as electronic and ballet music. In 1980 he was awarded Australia's prestigious John Bishop Memorial Commission for which he composed his violin concerto In Memoriam.
Malcolm Fox was a leading composer of children's opera. In 1984 his opera Sid the Serpent Who Wanted to Sing (published by G Schirmer Inc, New York) was the third most frequently performed contemporary opera in the United States.
In 1989 the Stuttgart Arcata Orchestra commissioned his Pathways of Ancient Dreaming which was premiered at the Perth, Adelaide and New Zealand International Festivals.
Malcolm Fox was also a leading authority on Wagner opera. He established the first Australian Wagner course at Adelaide University and was active as a lecturer and broadcaster. His book From Alberich to Wotan – 101 Things You Ought to Know About Wagner and the Ring Cycle was published in 1996.
Malcolm was due to present the pre-performance lectures for the Australian premiere of the Ring Cycle in 1998 but died in November 1997.
A CD of Malcolm Fox compositions is planned for release on Vixen Records.