STRING JAM CLUB - NOW IN ITS 17TH YEAR
voted the 2nd best gig in the whole of the UK by The Guardian
"The Borders haven of acoustic music." The List
Club of the Year Nominee - Scots Trad Music Awards 2007
"Magic happens in small spaces."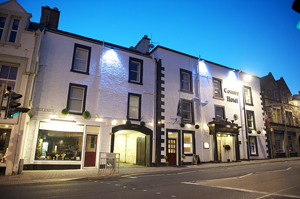 The String Jam Club is the premier monthly live unplugged music venue in the Scottish Borders featuring headline acts from throughout Britain as well as up-and-coming local musicians.
Launched by singer-songwriter Allie Fox in 1997, it is one of the best-known little Scottish venues on the UK live roots music circuit and was voted the second best gig in the whole of the UK by the Guardian, beating Oasis. In 2007, it was shortlisted for the Scots Trad Music 'Club Of The Year' Award.
Noted for its great eclectic music and its friendly atmosphere, it has hosted a veritable Hall of Fame of internationally-known musicians over the years, as well as over 800 local and semi-professional musicians who have performed in the club's now legendary and coveted open mic spots. We welcome everyone who loves music.
Our audiences are noted for their discernment and listening qualities and for being very lively and welcoming. String Jam Club proves the point that a miraculous kind of magic can happen between performer and audience in a small special space and it's something you'll never forget. String Jam Club is a real experience, both for the punters and the artists, where you can see some of the greatest acoustic musicians playing live up close in a really intense and intimate atmosphere.

The String Jam Club usually meets on the second Saturday of the month, but this can occasionally vary. Please check our Dates page for full gig details.

Sponsored by Vixen Records, Sound Station Studio, Merlin Music Melrose, and Borders Certified Chartered Accountants
String Jam Club moved to the County Hotel in January 2014.  Centrally situated in the Borders town of Selkirk, the historic hotel - which dates from 1750 - is slap bang in the middle of town (in the High Street) with plenty of parking on the premises, as well as across the road in Market Square. There is also a large public car park close by.

The County Hotel is the central place to meet in the town. It has an excellent restaurant downstairs if you want to eat before the show, and a separate relaxing lounge bar where you can meet up, hang out and have a drink before doors opening time.

The Contea pizza, pasta & salad restaurant next door is also available for pre-gig meals. Booking is recommended for both restaurants.
http://www.countyhotelselkirk.co.uk


OUR NEXT EVENT
Thursday 16th July 2015
CHASTITY BROWN
"Evokes the spirit of Roberta Flack and Woody Guthrie." ACOUSTIC MAGAZINE

Blending the roots of gospel, soul, blues, folk and country, Chastity Brown's songs are raw, gritty and poetic.  
Her extraordinary voice will by turns hit you like a steam train and then touch you gently with a delicate feather, and her emotional intensity will touch you deeply.
Chastity is returning for her second appearance at the club due to huge popular demand following her spectacular Borders debut in January this year.
With Luke Enyeart on guitar, and Gregg Schutte on percussion, this will be a very special show, not to be missed. Early booking advised.
Tickets £15, available in advance from the venue or on the door
Credit/debit card bookings taken over the phone 01750-721233
Please note all card payments incur a booking fee of 50p.


FOOD-LOVERS PLEASE NOTE!
The County Hotel offers a 15% discount on restaurant meals for String Jam Club ticket holders between 6.00pm and 7.00pm on the night of the show..
Table reservation is advisable as the restaurant is popular and busy on a Saturday night.
This discount cannot be linked with any other County Hotel promotion.


Read more on our Dates page