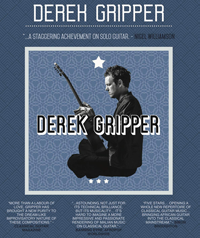 His name is Derek Gripper, he comes from South Africa and he is fast becoming one of the most celebrated guitarists on the planet. Grammy Award Winner (and possibly one of the greatest guitar players of all time), John Williams, has said that what Gripper does is "absolutely impossible!" and is one of the most interesting things he has heard on guitar in 20 years. They have shared the stage together in sold out shows around the world.
 
Tonight Derek plays a solo show of dazzling musical beauty that will take your breath away.  He has scaled musical Everest by doing something no one has ever even considered attempting, and with incredible results. Obsessed by the African traditional instrument, the kora – a 21-stringed West African lute made out of cow-hide – and consumed by heritage music around the African continent, he has managed not only to arrange these traditional songs for the acoustic guitar, but has brought with it the intensity, subtleties and authenticity of the cultures that gave this music its birth. For 15 years his passion for the kora, and in particular for the music of the great Malian player Toumani Diabaté, has driven him to achieve his "staggering achievement on solo guitar." (Songlines)
 
His latest release 'Libraries on Fire' is an album's worth of kora duets for solo guitar, essentially transposing somewhere between 44 and 46 strings onto six!
 
Far more importantly, through the act of transcribing this music, he has managed to record one of the most undocumented and vital musical histories on the planet for future generations to study, and in doing so he has made a genuine contribution to the world of music. For this alone, Gripper deserves serious credit.
 
But one of the most exciting things of all is to watch this incredible talent perform his heart out and show the world that he has something truly unique and powerful to offer.  It is an intensely moving experience, the cascading melodies and rhythms a delight to listen to.
 
After a recent successful appearance at New York's Carnegie Hall and en route to Celtic Connections where he will be on stage with Tommy Emmanuel, we are delighted to be welcoming him to String Jam Club. We urge you to come see him and experience the magic of his live performances, buy his albums and get his autograph while you still can!

"An astonishing guitarist." (MARK RADCLIFFE, BBC RADIO 2)

"Libraries on Fire is a masterclass in the sonic possibilities of the guitar." (10/10, RHYTHM PASSPORT)

"One of the most interesting things I've heard on guitar in twenty years." (JOHN WILLIAMS)

"Superlatives can pall, but this is an extraordinary album on many levels." (fROOTS)

"An incredible guitarist, so passionate about the music that it's really infectious."  (NITIN SAWHNEY)

 "His playing has a depthless beauty, which does full justice to the complexity of Toumani's compositions." (SONGLINES MAGAZINE)

"One of the most atmospheric recordings of guitar music, of any kind, that I have heard..." (CLASSICAL GUITAR MAGAZINE)

"Fascinating stuff whose by-product is a record of beauty." (CERYS MATTHEWS BBC 6 MUSIC)

"Bringing African guitar into the classical mainstream." (EVENING STANDARD)

4 stars **** FINANCIAL TIMES


www.derekgripper.com
String Jam Club on Facebook
Derek Gripper performing Toumani Diabate's 'Jarabi' at the launch of One Night on Earth at the Slave Church in Cape Town

Tickets £13, available from the venue by phone 01750-721233 (card bookings incur 50p card transaction fee).  Tickets will be  reserved for collection on the night.
Online ticket sales http://www.countyhotelselkirk.co.uk/event/derek-gripper-string-jam-club/ (booking fees apply). County Hotel accommodation deals (subject to room availability).
DOORS OPEN 7.30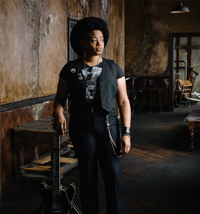 Amythyst Kiah is a Southern Gothic, alt-country blues singer/songwriter based out of Johnson City, TN, which has been her permanent residence for nearly a decade. She has been performing in what is known as the Tri-Cities (Bristol, TN/VA, Johnson City, TN, Kingsport, TN) and in various parts of Southwest Virginia.

Not only are her influences eclectic, but they span across decades.  A classical guitar player since high school with a degree in bluegrass music, she accompanies herself on acoustic guitar and banjo, drawing heavily on Old Time music (Mississippi Sheiks, Son House, Jimmie Rodgers, Olla Belle Reed, Carter Family) and is inspired by the vocal stylings of R&B and country music from the '50s-'70s (Big Mama Thornton, Sister Rosetta Tharpe, Mahalia Jackson, Dolly Parton, Patsy Cline, Loretta Lynn). She also draws heavily from contemporary artists that have similar powerful vocal integrity (Adele, Florence and the Machine, Megan Jean and the KFB, Janelle Monae, Thom Yorke, Tori Amos, Bonnie Raitt) so there's something for everyone here.  A recent review in The Scotsman of her second appearance at the Edinburgh Jazz and Blues Festival described her as "striding through mournful, rootsy country blues in assured style, but her voice lent truly resonant new life to Vera Hall's Trouble So Hard and Another Man Done Gone, the rich bluegrass of the Carter Family's Bury Me Under the Weeping Willow Tree, and Fake Plastic Trees by Radiohead, her chief childhood influence."  This will be an interestingly eclectic and authentic evening from a young woman with an impressively big and expressive voice.

Needless to say, Amythyst has got a lot of tools in her vocal tool box, and is also well on her way to join the powerhouse vocalist pantheon. Her sound on her solo album, "Dig", is raw and sparse, with heavy lyrical content regarding such themes as loss, betrayal, and murder. In November 2016, she released a band EP as Amythyst Kiah and Her Chest Of Glass to great acclaim.

She has opened for such acts as Tim O'Brien and Darrell Scott, The Duhks, Megan Jean and the KFB, and has played the Smithsonian Folk Life Festival 2012 alongside the Ebony Hillbillies and Sparky and Rhonda Rucker, and has performed on Music City Roots. She has also performed at the John F. Kennedy Centre for Performing Arts in Washington, DC and travelled Scotland and the UK performing at a number of major festivals including Southern Fried Festival, Cambridge Folk Festival, Hebridean Celtic Festival, Belladrum, Edinburgh Jazz & Blues Festival, and SummerTyne Americana Festival.  Her visit to String Jam Club will form part of her first major headline tour.

"She has rising talent written all over her. A 29-year-old with a striking shock of hair and a huskily expressive voice which modulates between strength and tenderness, Kiah strides comfortably across jazz, blues and even country styles." (THE SCOTSMAN)

"An important and innovative presence in contemporary traditional music." (THE BLUEGRASS SITUATION)


amythystkiah.com
String Jam Club on Facebook
Darling Cora
Myth

Tickets £12, available from the venue by phone 01750-721233 (card bookings incur 50p card transaction fee).  Tickets will be  reserved for collection on the night.
Online ticket sales http://www.countyhotelselkirk.co.uk/event/amythyst-kiah-string-jam-club/ (booking fees apply). County Hotel accommodation deals (subject to room availability).
DOORS OPEN 7.30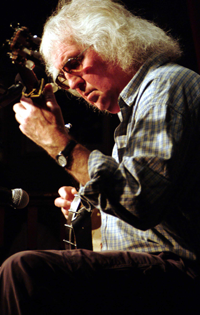 Now in his 70's, Wizz Jones is a British blues guitar legend.  With his unique guitar style, an eclectic repertoire and "a right hand worthy of Broonzy" Wizz still continues to tour on the acoustic folk and blues circuit. Originally inspired by hearing Big Bill Broonzy, Ramblin' Jack Elliot and Muddy Waters,  Wizz learnt his guitar licks from the likes of Davy Graham and Long John Baldry whilst playing in the coffee bars of London's Soho in the late 1950's.  He then followed the time-honoured buskers' trail from the streets of Paris to the markets of Marrakesh during the early 1960's ultimately returning to Britain where he formed a blue-grass  duo with banjo-picker Pete Stanley. This partnership which was to last for four years and led to a single and LP Album for EMI, and enjoyed considerable success. Wizz decided to return to solo work, carving out a career which spans decades, from the start of the folk and blues revival in the 1950's right through to the current time, producing a back catalogue of some 20 solo albums, excluding his many collaborative recordings.  He has had a huge influence on some of the greatest blues guitarists we now consider household names such as Eric Clapton and Keith Richards, and his classic song 'When I Leave Berlin' has been covered by Bruce Springsteen.  

"Wizz Jones really is extraordinary. Along with Davey Graham he was one of the pioneering English acoustic guitar wizards of the 1960s, influencing that whole Jansch/ Renbourn/ Carthy generation and beyond (yes, people like Eric Clapton, Jimmy Page, Keith Richards and Rod Stewart too, by all accounts). By the end of that decade he'd crystallised his unmistakeable style – fingerpicking powered by a sturdy, bouncing Big Bill Broonzy thumb or a driving flatpicking inspired at the knees of Ramblin' Jack Elliott & Derroll Adams in the late 1950s. And the remarkable thing is that he's still playing with as much fire these days at the age of 72, his youthful voice on this album almost unchanged from four or five decades ago. If he'd made this album at any point in the last 40-plus years it would have sounded just as good. I can't think of anybody else remotely like him.  

Why Wizz Jones isn't an international folk hero and recipient of all the Lifetime Achievement Awards going is almost impossible to fathom, other than because of his modest self-effacing nature. Word from the powers that be at Radio 2 is that he won't ever get one because he isn't a household name. Well, play the arse off this record and make him one then – on this form, there's no excuse at all." (Ian Anderson, fRoots 2011).

This is Wizz's second visit to the club and it will be fabulous to welcome him back.  With his brilliant playing, strong songs and his endlessly witty repartee, his set will be full of some of the greatest blues picking and music you're ever likely to hear.

"The most underrated guitarist ever." (BERT JANSCH)


www.wizzjones.com
String Jam Club on Facebook
Corrinne
Teapot Blues/Empty Pocket Blues
Wizz Jones on Muddy Waters (interview)
Bruce Springsteen sings 'When I Leave Berlin'
Wizz Jones on Travelling Folk


Tickets £13, available from the venue by phone 01750-721233 (card bookings incur 50p card transaction fee). Tickets will be reserved for collection on the night.
Online ticket sales Eventbrite (booking fees apply). County Hotel accommodation deals (subject to room availability).
DOORS OPEN 7.30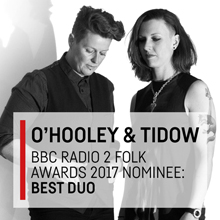 With a personal invite from Billy Bragg to play Glastonbury, sessions on 6 Music and Radio 2, five star reviews and a feature in The Guardian; the voice and piano songwriting duo of Belinda O'Hooley and Heidi Tidow is regarded as 'one of British folk's mightiest combinations' (Mojo). Their latest album, Shadows, has earned them a place in Mojo's Top 10 Folk Albums of 2016 for the third time (Silent June, 2010, The Hum, 2014) and their third BBC Radio 2 Folk Award nomination for 'Best Duo'.

Having the originality and skill to invite comparison with the most celebrated harmony duos, from early Simon and Garfunkel to the iconic Kate and Anna McGarrigle, Belinda and Heidi's powerful, deeply moving, and soulful performances are infused with an honesty and empathy that will disarm the hardest of heart.

A MOJO MAGAZINE TOP 10 FOLK ALBUM OF 2016

BBC RADIO 2 FOLK AWARDS 2017 'BEST DUO' NOMINEES

"England's answer to the McGarrigles."  (* * * * * The Guardian)  

"Insightful, determinedly left-field angles on the human experience." (* * * * MOJO Folk Album of the Month)

"Have Belinda and Heidi done it again? Certainly." (* * * * * R2)  

"Dense, complex, beautifully performed."  (* * * * SONGLINES)

"A fine study of human emotion." (* * * * EDS)  

"One of the most vital and experimental acts on the folk circuit and beyond."  (FOLK RADIO UK)

"Formidably brilliant." (INDEPENDENT)

"Brave, beautiful and full of love." (MARTIN SIMPSON)

"In the leading ranks of the new wave of folk music aristocracy." (TOM ROBINSON, 6 MUSIC)
ohooleyandtidow.com
String Jam Club on Facebook
Two Mothers
Summat's Brewin
Ruins By The Shore
Peculiar Brood


Tickets £14, available from the venue by phone 01750-721233 (card bookings incur 50p card transaction fee).  Tickets will be reserved for collection on the night.
Online ticket sales Eventbrite (booking fees apply). County Hotel accommodation deals (subject to room availability).
DOORS OPEN 7.30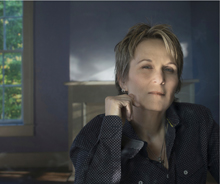 Making her third appearance at String Jam Club on Thursday 1st June is American singer-songwriter Mary Gauthier, rated as "one of the major artists of our time" by BBC Radio Two's DJ Whispering Bob Harris.  Originally hailing from Baton Rouge in Louisiana, the life of Mary Gauthier (pronounced Gο-SHAY) reads like a classic heartbreak country song. As a newborn baby, she was left on the steps of St. Vincent's Infants Home in New Orleans and eventually adopted by a family led by an alcoholic father. At the age of 15, she stole the family car, ran away and spent years drunk or high on heroin in the company of society's outcasts, or as she describes them in her award-winning song: "Drag queens in limousines, nuns in blue jeans, dreamers with big dreams, poets and AWOL Marines, actors and bar flies, writers with dark eyes, drunks who philosophize."
Mary finally got clean at the age of 29 and wrote her first song aged 35. After setting up her own successful Cajun restaurant, she finally decided to go for the music full-time, sold her share in the business to fund her first album 'Dixie Kitchen' - and the rest is history. Now one of the most revered songwriters to have emerged from America in the last decade or more, she can count Bob Dylan and Tom Waits amongst her legion of fans.  Mary is a truth-teller in gritty Southern Gothic-shaded style. Her life story and songwriting are inextricably linked - unwaveringly honest, raw and unflinching, digging emotional depths but profoundly resonant with the recurring themes of love, redemption, hope and healing.  For Mary "songs are the medicine that put me back together."  There is nothing glib or sentimental in her writing. She has lived it all.  She pulls no punches and her songs cut to the bone, ultimately penetrating those universal truths we can all relate to.  In Mary's own words: "There's no such thing as going too deep."
Mary Gauthier spends her life almost continuously on the road, touring the world, both gigging and running songwriting workshops, and currently writing a book on the art of songwriting for Yale University Press.  She has released nine acclaimed albums, including her most recently-released "Trouble and Love" which includes co-writes with fellow songwriting legends Gretchen Peters and Beth Nielson Chapman.  The album is an undeniable masterpiece of "razor-sharp reflections of the long road out of purgatory." Described as "the break-up album to end all break-up albums" Mary describes how she "had to write through the darkness to get to the truth. Writing helped me back onto my feet again. This record is about getting to a new normal. It's a transformation record."  The heart of that transformation, beating within
Trouble and Love
, is love. But it's not the kind of love that's celebrated on pop charts. This is deep and dangerous poetry, and Gauthier leads us through it with her typically relentless insight and candour, aided and abetted by the supreme musicians who played on the album with no rehearsal.  No one was given a lead sheet or an advance demo or even headphones. The backup vocals were invented on the spot. The microphones were vintage, and the songs were cut live, to tape, analogue. Everyone stood together in the room, playing to what they heard in the lyric as well as from what was going on in the moment, and this is what gives the album its raw and truthful immediacy. Mary wanted them to feel it in real time.  "You don't want to
sound
real with songs like this. You want to
be
real. That's what I strive for as a writer, and that's what we got in the playing." It is surely her best album yet.
Mary's live shows are unique and very affecting, "the kind of experience you keep for life." With a voice full of rust and road dirt, she transports her audiences to a better place. Despite the fact that her songs are peopled by cast offs, misfits, odd balls, the broken-hearted and worse, Gauthier embraces them all as sisters and brothers, mothers and fathers - her warmth, humour and honesty shining through.
Mary has received standing ovations from all three floors of the Grand Ole Opry, the Mecca of Nashville, and she always gets the same in Selkirk, so we're looking forward to her third visit.  There's no one else like her, so don't miss this great artist, live and up close in the intimate, special and friendly setting of String Jam Club.  It will be both moving and uplifting.  Mary will be accompanied on stage by Italian violinist Michele Gazich.
"One of Americana music's most admired artists, across the US and around the world."
(WALL STREET JOURNAL)

"With a voice like a grazed hawk, she sings bluesy Southern Gothic tales…Whatever you are doing I guarantee you'll stop and listen to every word."
(****MOJO)

"Her razor-sharp eye for detail and her commitment to unsentimental self-reflection puts her in a class with greats such as Kris Kristofferson, John Prine and yes, Bob Dylan."
(LOS ANGELES TIMES)

"Live, she is mesmerising. Her songs are a strange mix of half-spoken, half-sung talking blues: clever, often laugh-out-loud tales of addicts, victims and losers, of cheap motels and failed love affairs."  
(THE TIMES)


"Trouble and Love draws marrow from Gauthier's bones, cauterizing the wounds of a relationship into one of the most devastating breakup albums of all time."  
(AUSTIN CHRONICLE)

"
A particular blend of toughness and vulnerability that puts her in a league with Bruce Springsteen and Steve Earle."  
(BOSTON GLOBE)

"One of our most evocative storytellers and fearless stewards of the emotional landscape…"
(ACOUSTIC GUITAR MAGAZINE)

"A half-truth is a whole lie. Character, like integrity, is much easier kept than recovered. So write from your true self, not the self you think you should be."  
(MARY GAUTHIER)



Mary Gauthier Official Website
String Jam Club on Facebook
Mercy Now
I Drink
Oh Soul
False From True
The Last of the Hobo Kings
Mary Gauthier Grammy Museum Interview



Tickets £20, available from the venue by phone 01750-721233 (card bookings incur 50p card transaction fee). Tickets will be reserved for collection on the night.
Online ticket sales Eventbrite (booking fees apply).
DOORS OPEN 7.30