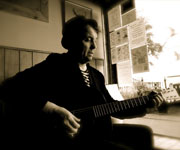 Martin Stephenson is a totally unique and talented musician whose live performances are something else, you won't see or hear anything else like it anywhere. He's a superb guitarist and a great songwriter so this is a real treat for fans of blues-influenced music and top notch original songwriting.  Jim Hornsby is a well known and hugely respected guitarist from Newcastle who will be bringing a variety of stringed instruments with him including resonator guitar, lap steel & banjo to complement Martin's arrangements.

Martin's early love of literature and music led to the formation of the renowned band, the Daintees, first started in his early teens. After becoming something of a busking sensation, Newcastle record label Kitchenware signed Martin and The Daintees and sent them into the studio. After two singles, notable among which was 1982's intoxicating "Roll On Summertime", a debut album was embarked upon. The Daintees line-up at this time comprised Stephenson (guitar, vocals), Anthony Dunn (bass, acoustic guitar, vocals), John Steel (keyboards, harmonica, bass, vocals) and Paul Smith (drums, percussion).  The acclaimed 'Boat To Bolivia' was released in 1986, and the candidness and honesty of Martin Stephenson's lyrics best portrayed on songs 'Caroline' and 'Crocodile Cryer'.

Martin Stephenson had previously been on his own journey to North Carolina in 2000. After composing a song about Carolina-born Charlie Poole's fiddle player Posey Rorrer, Martin wrote a play about Charlie's life and brought together the cream of the North East of England's acoustic musicians for the project. Martin's journey took him all over North Carolina rediscovering many great forgotten musicians and recording them for a CD release - called 'The Haint of the Budded Rose'.

Now performing mainly solo and acoustically, his performances are noted for their spontaneity and deep love of the folk/blues rag guitar style, and we're in for some really class finger-picking heaven!

"Builds bridges between love and hate, between cradle and grave, between folk and pop, between the past and present".
New Musical Express
"No matter how cold, damp and miserable it is outside, you can always rely on Martin Stephenson to raise the temperature, get your pulse racing and banish any winter blues you might be feeling."
Sounds in the Suburbs, Glasgow
"Haunting subtlety, delicate vocal and mostly acoustic folk-tinged melodies with masterful lyrics. Not content with the sort of solipsism that masquerades as thoughtfulness for most singer/songwriters, Stephenson isn't afraid to tackle big themes — honor, death, fidelity, stuff like that — but he does so gracefully, using artfully chosen metaphors that rarely ever spell out their deeper meanings."
All Music Guide


String Jam Club on Facebook
www.daintees.com
www.last.fm/music/Martin+Stephenson+And+The+Daintees/+wiki
www.youtube.com/watch?v=VVqhddst93M
youtu.be/ImRIUom5xK8
youtu.be/3d1bR7pO5Ak
youtu.be/pNp7Ucg6CpM
sites.google.com/a/jimhornsbyguitars.com/jim-hornsby-guitars

Advance tickets £9 from the venue, or buy on the door.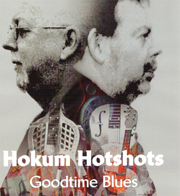 Saturday 13th April 2013
The Hokum Hotshots
The Hokum Hotshots are Jim Murray and Pete Mason are a real treat for lovers of blues and fine guitar-playing, all peppered with some entertaining banter.  We guarantee you will go home with a smile on your face.

This highly-regarded blues duo from Newcastle, who between them play Steel National and Dobro Horizontal Guitars, Mandolin, Tiple (a 10 stringed South American instrument), ukulele, and acoustic 6 stringed guitars. That makes a total of over 50 available strings. Add two voices and you've got a magic evening of blues with a smile on its face.

Their musical influences range from field hollers, through ragtime, vaudeville, country blues, jazz and swing, through to the urban blues of the 1940s. Add to this compositions sympathetic to the tradition and a large dash of humour and you get close to defining the music that is The Hokum Hotshots.

Over the years the Hokums have shared the stage with such greats as Mississippi Fred McDowell, Johnny Shines, Diz Disley, Martin Carthy, Larry Johnson, Long John Baldry, Jo Ann Kelly, Eric Bibb, Aurora Block, Kieran Halpin, Martin Simpson and many more. They have played Dublin, Cork, Banbury, Burnley, Aberdeen and Wrexham Blues Festivals, Trowbridge, Wath, Penicuik, Crawley and Gatehouse of Fleet Folk Festivals, from the Highland Festival in Inverness to a forestry festival in Holland, Paul Jones Blues programme on BBC Radio 2 and various other radio and television spots, in addition to many appearances at clubs, pubs and arts centres throughout the UK, Ireland and the Continent.

"Highly skilled acoustic multi-instumentalists." Blues and Rhythm
"Music that brightens the dullest day - absolute magic." Tyne Tees Television
"One of the country's best and most experienced guitar duos." Newcastle Evening Chronicle
"Probably the most accessible of the acoustic acts." Blueprint

String Jam on Facebook
http://hokumhotshots.co.uk
http://www.youtube.com/watch?v=UgztJdH4rL0

Advance tickets £9 from the venue, or buy on the door.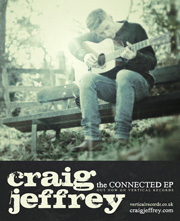 At String Jam Club, we call Craig Jeffrey "the man with the golden voice" and we can't get enough of him. Recently snapped up by Donald Shaw's label, Vertical Records, Craig has been wowing his legion of fans in the Borders and beyond for eight years.  Born in Galashiels, this very talented singer-songwriter and guitarist released his first EP 'Hard To Say' in 2007, followed in 2008 by his first full length album 'Don't Blow Away'.  Both were received with great praise, Craig's songs and striking voice always working their magic on audiences and critics alike.

His credits include performing alongside such music greats as Donald Shaw (Capercaillie, Celtic Connections), James Grant, Paolo Nutini, The Feeling, Red Hot Chilli Peppers, Joan Armatrading and Donnie Munroe, and after winning the Danny Kyle Award at Celtic Connections he has been a regular there for a few years now. Many of Craig's songs have been used on TV. The new EP 'The Connected' on Vertical was released in March this year and received a highly successful launch at the Volunteer Hall in Galashiels.  This new release will delight his existing fans and create many new ones.  Whatever kind of music you enjoy, Craig's stunning vocals, emotional delivery and his haunting heartfelt songs won't fail to affect you.  

This will be a very popular night, so book your tickets soon.

Hosted by Tom Clelland, Judges Choice at String Jam Club's Songwriter of the Year Contest 2011.

String Jam on Facebook
Craig Jeffrey on Bandcamp
Craig Jeffrey on Facebook
Craig Jeffrey on YouTube

Advance tickets £9 from the venue, or buy on the door